RECIPE
TWIX Touchdown Trifle Cups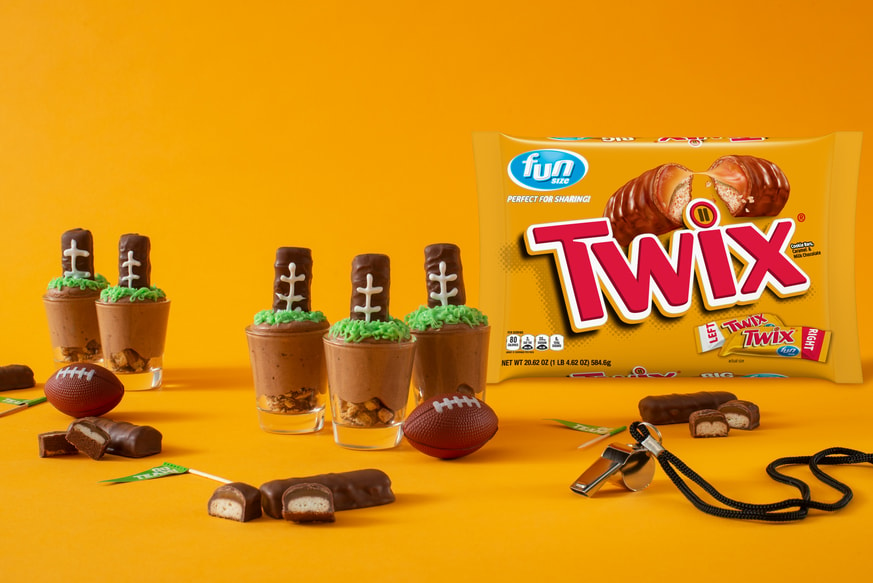 You'll score a touchdown during the big game when you serve these sweet treats. Store-bought prepared salted caramel sauce cuts down on prep time.
Ingredients
1 box (4 oz) chocolate pudding mix
1/3 cup mascarpone cheese
2 tbsp salted caramel sauce
1/2 cup heavy cream
15 TWIX Fun Size, divided
1 small tube white icing
1 tube green icing
Instructions.
1

Using electric mixer, prepare chocolate pudding according to package directions. Beat in mascarpone cheese and salted caramel sauce until blended; set aside.

2

In small bowl, whip cream until stiff peaks start to form; fold into chocolate and salted caramel mixture just until blended. Transfer to piping bag fitted with round tip; set aside. Finely chop 3 TWIX Fun Size; reserve in small bowl. Set aside.

3

Using white icing, decorate remaining TWIX Fun Size to resemble lacing on football; set aside.

4

Divide chopped TWIX Fun Size evenly among 12 mini clear cups. Pipe chocolate and salted caramel mousse over top.

5

For each serving, set 1 TWIX Fun Size "football" in mousse. Garnish with green icing to resemble grass.

Tip:

Substitute cream cheese for mascarpone cheese if preferred.